Actueel nieuws Beachvolleybal 2021
Het beachvolleybal is weer begonnen. Onderstaande links geven je toegang tot alle specifieke informatie: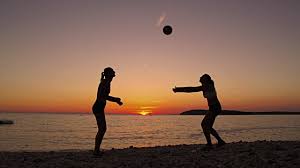 Als het volleybalseizoen (binnen) is afgesloten biedt Volleybal Vereniging Nederhorst de mogelijkheid voor beachvolleybal.
Achter sporthal de Blijk, bij het strand gelegen aan de fraaie Spiegelplas, is een beachvolleybalveld dat voor iedereen toegankelijk is, echter met voorrang voor onze vereniging.
Voorafgaand aan de zomervakantie wordt er voor de jeugd, tegen een kleine vergoeding, een aantal trainingen verzorgt en hebben de senioren de mogelijkheid om deel te nemen aan het King/Queen of the beach volleybaltoernooi. Voor beiden is er altijd heel veel interesse en iedereen doet dan ook graag mee.
Hou in het voorjaar deze pagina in de gaten. Hier zullen we je up-to-date informatie geven over hoe we je in de zomer, al beachvolleyballend, zullen gaan vermaken.